There can be little dispute that WordPress is among the most widely used CMSes worldwide. More than 40 percent of all websites on the internet use WordPress as their content management system. WordPress has a lot of fans thanks to its simple design and intuitive interface, but it also has its share of problems and bugs.
What is WordPress bug/issues?
A bug is any issue or flaw in the WordPress core software or any of its themes or plugins. Due to their potential to cause unexpected behavior, these mistakes may have a substantial impact on the website's performance and user experience. Defects in WordPress can result from faulty code, compatibility issues with other plugins or themes, outdated software, server-related issues, or even just human error.
WordPress can also experience additional issues including broken links, plugin conflicts, security flaws, slow page loading, website outages, and error warnings. Regular updates to WordPress are provided to fix issues, improve functionality, and bolster security measures. New problems could, however, develop as a result of these changes. Keep your WordPress core software, themes, and plugins up to date, choose dependable plugins and themes, regularly back up your website, and get professional support if you encounter any issues or bugs.
WordPress Bug Fixing Service
As a website owner, you've probably dealt with problems like server overload, sluggish page loads, broken links, incompatible plugins, and more. The user experience and search engine rankings may suffer as a result of these issues. Thankfully, you can find WordPress bug-fixing and problem-solving services to assist you in resolving these difficulties and maintaining a functional website.
WordPress bug-fixing and problem-solving services offer a range of services to help website owners solve their technical issues. These services may include:
Website Maintenance: When you keep up with routine maintenance, you reduce the likelihood of security breaches, plugin conflicts, and other technical problems. You can keep your WordPress site up and operate smoothly with the aid of a service that fixes bugs and other issues.
Troubleshooting: A WordPress bug-fixing and problem-solving service can aid in troubleshooting and resolving difficulties with your website.
Plugin and Theme Support: Plugin and theme conflicts and incompatibilities are two of the most common problems that may be solved by a WordPress bug-fixing and problem-solving service.
Website Migration: To ensure a seamless transition while changing web hosts, hiring a WordPress issue repairing and problem resolution service is highly recommended.
Custom Development: A WordPress bug repairing and problem-solving service may aid in the creation of a tailor-made answer to any issues you may be experiencing with your website.
Saving both time and money may be accomplished with the use of a WordPress bug repair and problem resolution service. You may put your energy into expanding your business while these services handle diagnosing and fixing any problems with your website.
In conclusion, if your WordPress website is giving you trouble, you should think about investing in a WordPress bug repair and problem-solving service. Website upkeep, problem-solving, and tailor-made solutions to suit your needs are all within reach with the assistance of these providers.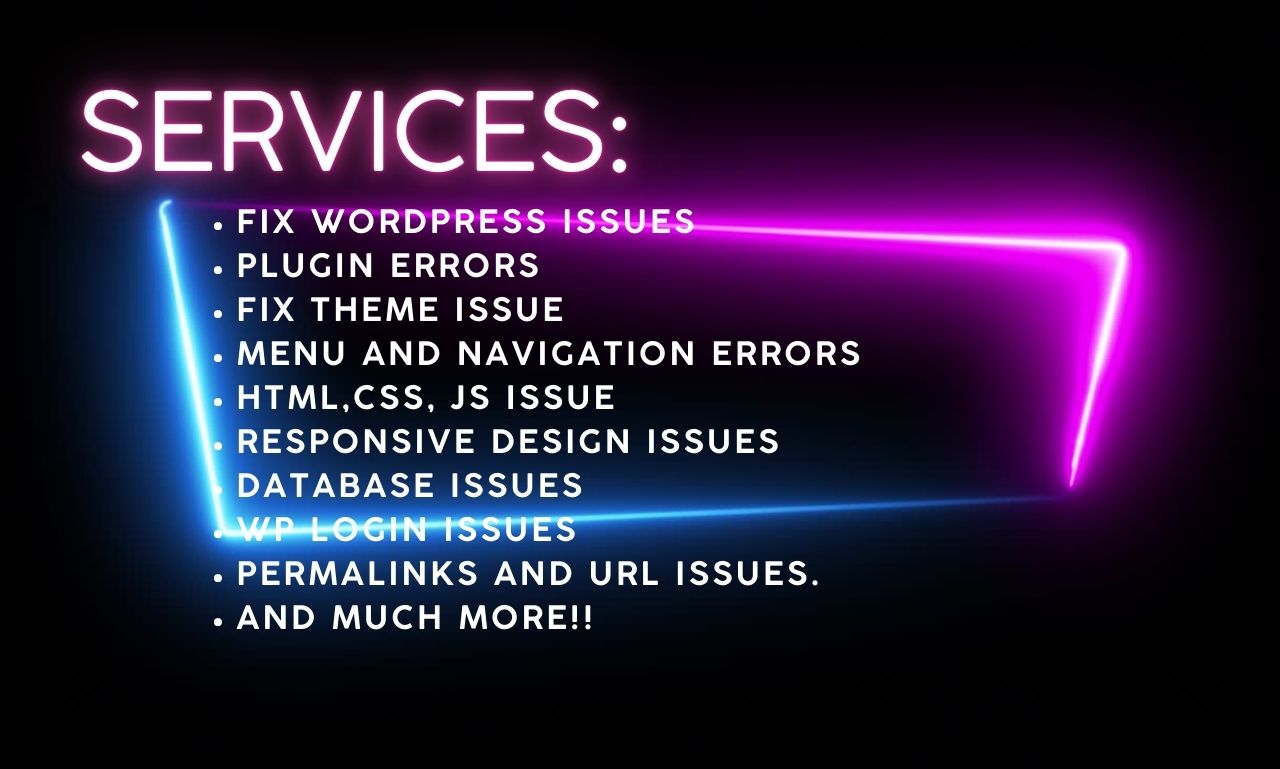 Get Bug Fixing Service: Click Here 
Get Bug Fixing Service From Fiverr: Click Here 
Additional Services from WordPress Bug Fix Service Provider:
In addition to the services mentioned above, a WordPress bug-fixing and problem-solving service can also provide:
Website Speed Optimization: A slow website is bad for both search engine rankings and user satisfaction. Employing a WordPress supplier who specializes in fixing bugs and other difficulties may considerably improve the speed and efficiency of your site.
Security Audits: A WordPress bug-fixing and problem-solving service could do a security assessment on your website to find weaknesses that hackers could exploit. They defend your website against attackers that wish to harm it.
Backup and Recovery: If anything unfortunate happens to your website and you need to get it back up as soon as possible, having access to a WordPress bug-fixing and problem-solving service might prove to be really beneficial.
SEO Optimization: Working with a developer who specializes in fixing WordPress issues might solve your site problems, and boost your site's visibility in search engine results, perhaps leading to more visitors.
Support and Training: You can take continuous assistance and training from a WordPress bug fixing and problem solving service provider, which will really help you to maintain your own website and can decrease your costs.
A WordPress developer who is specializes in fixing WordPress bugs may assist with things like maintenance, optimization, and security. The WordPress framework includes this functionality. Hiring a professional service allows you to concentrate on expanding your company while knowing that your website is in good working order.
Contact Me For Get This Service: Click here